HP-EliteDesk-800-G2-DM-Hackintosh
This repository contains the files and scripts to install macOS on the HP EliteDesk 800 G2 Desktop Mini Business PC (35W/65W).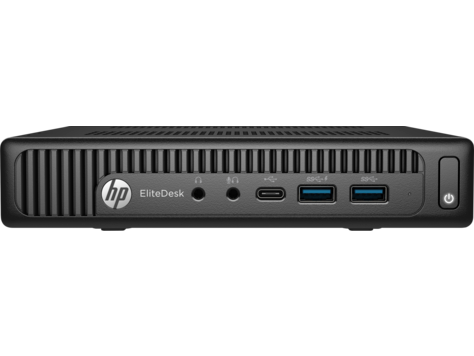 Hardware Specs
Basic info
Here is my EliteDesk 800 G2 DM specs:
Product Number: L2X86AV
Product Name: HP EliteDesk 800 G2 DM 65W
BIOS: N21 Ver.02.21 11/01/2016
Specs:
CPU: Intel® Core i7-6700 @ 3.40 GHz processor (65 W model only)
GPU: Integrated Intel® HD Graphics 530 (2 DisplayPorts + 1 VGA Port)
Memory: 1 x 8GB Micron DDR4-2400
Storage: SAMSUNG MZ7LN256HMJP-000H1
LAN: Intel® I219M Gigabit Network Connection LOM
WLAN: Intel® 8260 802.11ac 2×2 Wi-Fi with Bluetooth M.2 Combo Card Vpro (802.11ac Wave 2 supported)
Audio: Realtec ALC221 Audio Codec (all ports are stereo, 1 internal speaker, 1 front headphone, 1 front CITA port)
Configure BIOS Settings
To start, set BIOS to defaults. Then insure:
Advanced -> Boot Options

Disable Fast Boot
Disable CD-ROM Boot
Enable USB Storage Boot
Disable Network (PXE) Boot

Advanced -> Secure Boot Configuration

Select Legacy Support Enable and Secure Boot Disable, press F10 to save changes, system will reboot and lead you to Secure Boot and ask you to input a 4 digits security code for authorization, type in the code shows on the screen and enter to reboot and then press F10 again to enter BIOS configuration

Advanced -> System Options

Disable Virtualization Technology (VTx)
Disable Virtualization Technology for Directed I/O (VTd)
Enable M.2 SSD if you're using a NVME SSD
Uncheck M.2 WLAN/BT if you're using a Intel 8265NGW or other unsupported card
Check Allow PCIe/PCI SERR# Interrupt (Uncheck it if have interruption issues)
Advanced -> Built-in Device Options
Disable Wake on LAN
Set Video memory size to 64MB or larger
Disable LAN/WLAN Auto Switching
Disable Wake on WLAN
Advanced -> Port Options
Enable all if no specific reasons.
Advanced -> Power Management Options
Disable Extended Idle Power States
Press F10 to save changes.
Tested OS
macOS Catalina 10.15.7
macOS Big Sur 11.0.1
Bootloader
Kexts
VirtualSMC.kext (1.1.8)
SMCProcessor.kext (1.1.8)
SMCSuperIO.kext (1.1.8)
CPUFriend.kext (1.2.2)
IntelMausi.kext (1.0.4)
USBPorts.kext (1.0)
Lilu.kext (1.4.9)
AppleALC (1.5.4)
WhateverGreen.kext (1.4.4)
RTCMemoryFixup.kext (1.0.7)
USB 3.0 Ports
USB 2.0 Device
HS01
HS02
HS03
HS04
HS05
HS13
USB 3.0 Device
SS01
SS02
SS03
SS04
SS05
SS08
Type-C
Known Issues:
VGA port is not tested
Front Headphone/Mic combo jack is not working
Sleep is not working (Reboot or blackscreen when trying to wake it)
Upgrade to macOS Big Sur 11.0.x from Catalina faces one time Real-Time Clock (RTC) Power loss (005) error, safely ignore it. When upgrade is finished, no RTC erros on normal reboot
Credits:
Thanks to sakoula and HP EliteDesk 800 G2 Tower PC (Skylake) for macOS Big Sur & Catalina